Scarab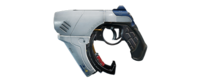 | | |
| --- | --- |
| Weapon Type | Pistol |
| Rarity | Uncommon |
| Faction | Osiris |
| Unlock Level | 2 |
| Weight | 20 |
| Buy Price | 3,900 |
| Scrip Price | 1 |
| Sell Value | 1179 |
| Faction Reputation | 12 |
| Ammo Type | Basic Light Ammo |
| Damage | 13 |
| Weakspot Multiplier | 1.5 |
| Penetration | 15 |
| Firerate | 0.26 |
| Projectile Speed | 27600 |
| Movement Multiplier | 1 |
| Reload time | 1.93s |
| Magazine Size | 15 |
| Audible Range | 300m |

The Scarab is a burst pistol that excels at close to medium range encounters. It is unlocked through
Osiris and is an

Uncommon item.
Attachments
The Scarab can have 5 different Attachments installed on it, one for each slot. The type of attachment must be compatible with the weapon's type, so only attachments that have Pistol or Light Ammo as a category can be installed onto a Scarab.
Description
A dependable pistol, fires in controlled and powerful three-shot bursts.
Lore
The Scarab, an Adaptive Phase Pistol, is one of
Osiris' most successful weapons, able to induce a localized rapid matter state change on remote targets at a fraction of the energy cost of more conventional laser-based weaponry. With energy efficiency and safety in mind, the Scarab is a solid choice of sidearm, though its compact form limits the extent of its lethality.
Mk.II Variant
An improved version of the standard Scarab Adaptive Phase Pistol, custom built for the Osiris Harbinger Expeditionary Corps. A rare find, worth keeping hold of.
The Mk.II variant of the Scarab has the following changed statistics:
The Mk.II version of the Scarab can only be found as loot on Fortuna III, which means it can't be crafted or bought in Prospect Station.
Weapon Comparison and Detailed Stats
For a comparison between this and other weapons, as well as an overview on its detailed stats, visit the Weapon Calculator
Cosmetics
This is an incomplete list of all cosmetics for the WEAPON in The Cycle: Frontier.

This list makes no guarantee of availability or completeness. Some cosmetics might no longer be in the shop rotation, be from the Fortuna Pass of a past season, be from a special promotion, or be otherwise exclusive.
Update history
Added Mk.II variant
Description changed from "A dependable pistol, fires controlled and powerful three-shot bursts." to "A dependable pistol, fires in controlled and powerful three-shot bursts."
Added a Scrip cost of 1 Osiris Scrip to the buy price
Decreased equip time from 0.6 to 0.4 seconds
Decreased unequip time from 0.4 to 0.3 seconds
Projectile velocities for Pistols has been increased by 15%
Reduced refire time between bursts from 0.34s to 0.26s.