NiC Oil Canister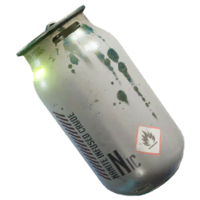 | | |
| --- | --- |
| Type | Resource |
| Rarity | Epic |
| Spawn Locations | [BS] [CF] [TI] |
| Weight | 5 |
| K-Marks | 20183 |
| K-Marks / Weight | 4036 |
| Faction Reputation | 202 |
| Faction Rep / Weight | 40 |
A NiC Oil Canister is an

Epic item obtained from an Oil Pump.
Description
A pressured canister filled with concentrated Nanite-infused Crude. It reacts to the storm radiation in strange ways.
Location
This item can be obtained by calling an Oil Pump on an NiC Oil Vein. The Oil Pump will start extracting the NiC Oil from the ground and put it into these canisters, which can then be picked up by any Prospector.
Uses