Manticore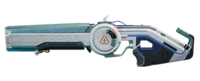 | | |
| --- | --- |
| Weapon Type | AR |
| Rarity | Uncommon |
| Faction | Osiris |
| Unlock Level | 5 |
| Weight | 35 |
| Buy Price | 9,000 |
| Scrip Price | 2 |
| Sell Value | 2709 |
| Faction Reputation | 27 |
| Ammo Type | Basic Medium Ammo |
| Damage | 12 |
| Weakspot Multiplier | 1.4 |
| Penetration | 15 |
| Firerate | 0.12 |
| Projectile Speed | 33800 |
| Movement Multiplier | 0.9 |
| Reload time | 3.35s |
| Magazine Size | 22 |
| Audible Range | 400m |

The Manticore is a versatile

Uncommon Assault Rifle created by
Osiris.
Attachments
The Manticore can have 8 different Attachments installed on it, one for each slot. The type of attachment must be compatible with the weapon's type, so only attachments that have Assault Rifle or Medium Ammo as a category can be installed onto a Manticore.
Description
A flechette assault rifle, it's heavy hitting but less accurate compared to other rifles.
Lore
Intended for use in pressurised environments, the Manticore was designed for more militaristic use than the compact ASP. Lightweight, accurate, and lethal, it's seen use by marines both performing as and defending against boarding parties.
Mk.II Variant
The Harbinger Expeditionary Corps. variant of the Manticore, more powerful than the civilian Manticore available for sale.
The Mk.II variant of the Manticore has the following changed statistics:
The Mk.II version of the Manticore can only be found as loot on Fortuna III, which means it can't be crafted or bought in Prospect Station.
Weapon Comparison and Detailed Stats
For a comparison between this and other weapons, as well as an overview on its detailed stats, visit the Weapon Calculator
Cosmetics
This is an incomplete list of all cosmetics for the Manticore in The Cycle: Frontier.

This list makes no guarantee of availability or completeness. Some cosmetics might no longer be in the shop rotation, be from the Fortuna Pass of a past season, be from a special promotion, or be otherwise exclusive.
Update history
Magazine size reduced from 24 to 22
Headshot multiplier reduced from 1.5 to 1.4
Manticore headshot multiplier reduced from x1.7 to x1.5
Manticore Mk2 headshot multiplier reduced from x1.7 to x1.5
Slightly reduced the chance of finding a Manticore Mk2
Added Mk.II variant
Added a Scrip cost of 2 Osiris Scrip to the buy price
Decreased equip time from 1 to 0.7 seconds
Projectile velocities for Assault Rifles has been increased by 30%
Increased projectile speed from 24000 to 26000
Damage reduced from 13 to 12
Reduced weight from 50 to 35
Damage increased from 11 to 13