ICA Guarantee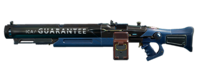 | | |
| --- | --- |
| Weapon Type | LMG |
| Rarity | Rare |
| Faction | ICA |
| Unlock Level | 9 |
| Weight | 50 |
| Buy Price | 24,000 |
| Scrip Price | 5 |
| Sell Value | 7143 |
| Faction Reputation | 71 |
| Ammo Type | Shredder Medium Ammo |
| Damage | 10 |
| Weakspot Multiplier | 1.6 |
| Penetration | 20 |
| Firerate | 0.09 |
| Projectile Speed | 36400 |
| Movement Multiplier | 0.8 |
| Reload time | 3.9s |
| Magazine Size | 40 |
| Audible Range | 400m |
The ICA Guarantee is a

Rare fast-firing LMG from
ICA. It is capable of overwhelming enemies with a hose of bullets.
Attachments
The ICA Guarantee can have 7 different Attachments installed on it, one for each slot. The type of attachment must be compatible with the weapons type, so only attachments that have LMG or Medium Ammo as a category can be installed onto an ICA Guarantee.
Description
A fast firing phase LMG, perfect for pinning down targets.
Lore
This Fortuna III custom isn't known for its finesse, but it'll chew through any target if the user manages keep it under control. With the amount of ammo expended, you're Guaranteed to hit something!
Prototype Variant
A less powerful version of the Guarantee, originally intended for when more conventional methods of pest control were not enough.
The Prototype variant of the ICA Guarantee has the following changed statistics:
The Prototype version of the ICA Guarantee can be bought in the
ICA shop on Prospect Station after reaching factionlevel 5, 4 levels eariler than the normal version.
Weapon Comparison and Detailed Stats
For a comparison between this and other weapons, as well as an overview on its detailed stats, visit the Weapon Calculator
Cosmetics
This is an incomplete list of all cosmetics for the ICA Guarantee in The Cycle: Frontier.

This list makes no guarantee of availability or completeness. Some cosmetics might no longer be in the shop rotation, be from the Fortuna Pass of a past season, be from a special promotion, or be otherwise exclusive.
Update history
Added Prototype variant
Description changed from "A fast firing Phase LMG perfect to suppress targets." to "A fast firing phase LMG, perfect for pinning down targets."
Changed ammo type to Shredder Medium Ammo
Decreased equip time from 1 to 0.9 seconds
Increased unequip time from 0.5 to 0.7 seconds
Reduced price from 31,000 to 24,000 K-marks
Reduced horizontal recoil by ~25%
Update history
Reduced buying price from 31,000 to 24,000 K-marks.