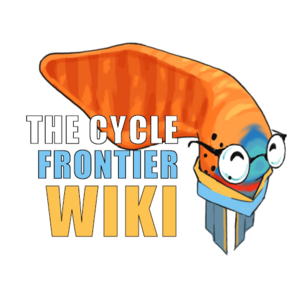 Welcome to the official The Cycle: Frontier Wiki. This wiki is a publicly accessible and editable website for gathering useful information related to The Cycle: Frontier. The wiki is open to editing by anyone and provides a comprehensive source of information about The Cycle: Frontier universe, including game mechanics, characters, locations, and more.
The The Cycle: Frontier Wiki is an online encyclopedia dedicated to The Cycle: Frontier, developed and published by Yager. The wiki is constantly updated with new content. Everyone is welcome!
About
The Cycle: Frontier Wiki includes the Mainspace (main The Cycle: Frontier Wiki). Some of our contributors also actively work on the open-source companion website, which expands the wiki with additional tools and information.
Version information can be found here and statistics are available here. Current admins are VeryGreatFrog and Stevnbak.
We Want You!

See also:
Help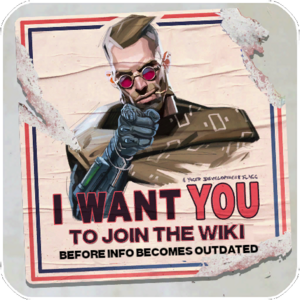 Every member of this site is important to the success of the The Cycle: Frontier Wiki, regardless of their edit count, user rights, or time spent here. Each editor has the same right to give advice, ask questions, and edit pages as anyone else. Do not put yourself down by commenting, or believing, that you are "just a newbie" or that you "haven't made very many edits."
Everyone is new at some point, and we are all here to help each other learn. The perspective and knowledge of everyone are what make our work effective and comprehensive, and each contributor is equally valuable.
Need a hand? Check out the Help:Contents, a set of guides that cover various aspects of the wiki.
Contact and Help
You can reach other editors through the Community Portal, through the talk page on a specific article, or through Discord.
You can reach an admin through their talk page, or through Discord (VeryGreatFrog#6253, Stevnbak#0671). You can also reach us on Twitter, as well as by email: thecyclefrontierwiki@gmail.com.
History
| Date | Event |
| --- | --- |
| 18 March 2022 | The Cycle: Frontier Wiki is interdependently founded. |
| 12 September 2022 | The Cycle: Frontier Wiki joins the ABXY Video Game Wiki network. |
| 28 September 2022 | The first version of our Tools site is released, tools.thecyclefrontier.wiki |
| 18 March 2023 | Our first anniversary is celebrated with a Giveaway. |
VeryGreatFrog and Stevnbak established The Cycle: Frontier Wiki on 18 March 2022 after frustration with Fandom. Their goal was simple: create an independent, fan-run, and up-to date repository of all things The Cycle: Frontier. They also wanted to take it a step further with creating an open-source companion website which has several useful tools to further make the life of all prospectors easier.
Policies
We are an independent gaming wiki and website without a superseding policing body. Our governance, including policies and guidelines, are driven, dictated, and created by community members. Policies provide a reference for editors on recommended courses of action. They consider the collective experience of the many editors who have contributed to the site, a summary of discussions about how to best accomplish certain tasks.
Attribution
This article is licensed under the Creative Commons by-sa license. It uses material from the Fallout Wiki Article About Us - Fallout Wiki